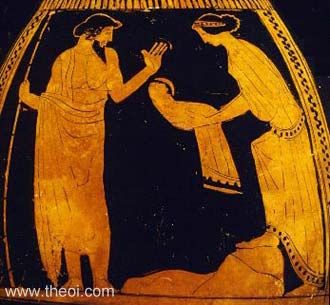 As I have mentioned in previous posts, I feel that
the Sabian Symbols
for the TLE (total lunar eclipse) in Virgo have an important message for us as Hellenistic Pagans.



For the Moon at 01:53 Virgo we have the following Sabian Symbol:
A large white cross dominates the landscape.


Keynote: The wisdom and compassion, which only the experience of suffering and isolation can bring – LIBERATING ORDEAL. (Dane Rudhyar, "An Astrological Mandala: The Cycle of Transformations and Its 360 Symbolic Phases", p. 151)
This sign speaks to us, emphasizing that we must embrace the nature of Kronos, called Saturn, who is known as "the
Titan
god
of time and the ages, especially time where regarded as destructive and all-devouring"
[1]
. If we refuse to embrace Kronos, and make peace with him in our own lives, we are dooming ourselves to keep repeating our Karmic lessons. There are many paths by which one may do this:
subconciously
- by sabotaging ourselves in our work, home, and leisure relationships, through building inner resentments that lead to angst or depressions.
Those who are aware of Kronos and his lessons are not immune however, as this eclipse has lessons for the concious as well - we must use Kronos' relationship with this eclipse as a trigger which urges us to keep moving forward in our lives and spiritual quests - and as a warning against falling into old patterns or ways of thinking. Kronos tells us that if we look to him for guidance, and trust in his teachings, he can show us how to properly integrate this TLE into our lives, and by doing so, we will experience a liberation. This liberation will parallel the liberation that he experienced when he was removed from power by his son, Zeus.
Kronos ruled the Universe and all of Creation during the Golden Age of man; Kronos came into power after he castrated and deposed his father
Ouranos
(the Sky Father). This set up a Karmic lesson which Kronos tried to thwart. Because Kronos feared the prophecy that he would be in turn be overthrown by his own son, Kronos swallowed each of his children as soon as they were born. He thought that this could thwart his Karmic debt... instead, it was merely a delay that caused it to build in intensity. The more that one works against their destiny, and the harder one tries to deny Karma, the greater the magnitude of the liberating event becomes. Kronos' wife,
Rhea
managed to save the youngest of her Divine Children, Zeus. Rhea hid Zeus on the island of Krete, where he was protected by Nymphs and nourished by the goat
Amalthea
. Rhea tricked Kronos and fed him a stone wrapped in the swaddling clothes of an infant.
When Zeus grew up, he made his mighty Aegis from Amalthea's hide, and placed her in the stars as
Capricornus
. Zeus went to Heaven, where he forced Kronos to disgorge his swallowed siblings, and led them, under their new title - Olympians - in a ten year, violent battle against the Titans. As predicted by the prophecy that he tried so hard to avert, Kronos was castrated and all of the Titans were defeated; the Titans as well as those who fought against the Olympians, were banished to the primitive and dark Pit of Tartaros. Here they experienced what it was to be imprisoned in darkness, held against thier will - just as Kronos had subjected his own children to the darkness of himself.
It seems to the pagan believer, upon hearing of the myth of the birth of Kronos, when he himself had been oppressed by his own father, Ouranos, Kronos would have tried to be a better father to his own offspring. If Kronos had been confident in his own power and rule, he would not have feared his children, and he would not have had to oppress them. A kind and supportive parenting role would likely have made everything different - Zeus could have assumed rule peacefully from his Father when he and the other Olympians were mature and ready to rule the Universe. Instead, Kronos acted from
fear
and
hubris
- the fear drove him to act in an oppressive manner - which bred resentment and hatred in his children and wife - and the hubris led him to convince himself that he was not subject to
Tyche
and her
Three Fates
. Zeus understood that he was subject to these Goddesses - who are called by men "terrible" - and by paying them the proper respect, Zeus was able to triumph over Kronos' oppression - this is reflected in our world by the proverb "Good always overcomes evil".
Because Zeus is most compassionate, and understands that everyone - even those who seek to avoid her - are subject to the dictates of Tyche, many, many, many human generations later, Zeus released Kronos and his comrades from thier dark and oppressive prison. He even made Kronos King of the
Elysian Islands
, home of the blessed dead. This is the
true destiny
that Kronos was meant to experience, but because of his fear and hubris, he had to experience darkness, isolation, and suffering before he could recieve his blessing.
The TLE at 01 Virgo 53 teaches us that we too must learn from the lessons of Kronos - if we try to act out of fear or hubris, we are only creating Karma which we must experience before we can inherit the blessings that the Gods have had in store for us since our birth. Let us use this eclipse to put right the Bad Karma we have created, and to embrace the Good Karma within ourselves and others.

For the Sun at 01:53 Pisces it is:
A squirrel hiding from hunters.


Keynote: The individual's need both to ensure his future subsistence and to protect himself from aggressive social elements – SELF-PROTECTION. (Rudhyar, pp. 269f).
This Sabian Symbol of the Sun relates to the role of Zeus and the Olympians in the above story. Zeus and his mother Rhea did what was necessarry to ensure Zeus' future success and rule as High God. It was necessarry for Zeus to spend his youth away from his family, in protection on Mt. Ida on Krete. This isolation allowed him to be taught wisdom and compassion by the Nymphs - which is what initially seperated him from his own father. Zeus had to experience this so that he could protect himself, his mother and his siblings; when he was mature, he was able to take the knowledge and compassion he had integrated into himself to address his Father. Kronos, rather than appreciating his son and his role in the Universe, sought to destroy his children so that he could rule forever. Zeus did not attack, or merely seek revenge; Zeus acted in self-defense against his father to protect his mother and siblings. This is why Zeus and the Olympian's actions were in harmony with Tyche, while the actions of Kronos and the Titans were against her.
The professional astrologer, Verena Donath, who writes the column
Celestial Notebook
for
The Mountain Astrologer
has the following to say about the TLE in Virgo:



The succeeding Lunar Eclipse will illuminate our inner landscape. It is a subjective response that will be felt emotionally and intuitively. In the chart for the Lunar Eclipse (see chart) Vesta is conjunct the Sun in Pisces and thus opposite the Moon. This speaks of a sacrifice, whereby the individual brings himself to the altar in the face of loneliness and alienation. By confronting one's anxieties and to some point even one's errors there might be a feeling of helplessness emerge, but in the end the need to save oneself will aid the individual in sorting out his feelings.

Saturn Rx in Virgo in close proximity, sesqui-quadrate Eris in Aries, is an indicator of a stressful emotional situation, a test of character as well as of endurance, because the inner life of the individual is in a state of dissonance. Polarity is heightened with each Full Moon. In the case of a Lunar Eclipse it is amplified. Outer as well as inner withdrawal is needed to regain composure and to reclaim one's space.

Pallas in Pisces is square Mars in Gemini who's casting a trine to the North Node in Aquarius. All threats have to be thwarted to protect oneself during this challenging phase so that the individual will be freed from the past and can now embark on a new path with renewed energies.

Uranus in Pisces receives a sextile from Ceres in Taurus and a semi-sextile from Chiron in Aquarius. The latter is also engaged in a square with Ceres. Detachment is the key to emotional liberation. Change will only happen by breaking out of the cycle of suffering and letting go off illusive thinking. Security is only relative. To ensure future subsistence the individual has to rebuild his/her self-esteem.

This is a time for us to look within and make the following changes so that we cease to act out of hubris and/or fear against Tyche, the Fates, and the Gods:
Move from worthlessness, shame, guilt, and believing that everyone else embraces the Gods except us to the constant awareness of our inherent divinity and interconnection with all of Creation.
Move from helplessness, victimization, and martyrdom to discernment, harmony, humility, and true service of the Gods (Orthopraxy).
Let us embrace the sacred work which we came to this life to do.
Let us live boldly and shine our light that we offer to the world in the service of the Gods.